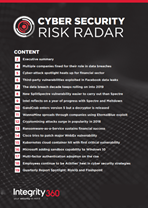 The first fiscal quarter of 2019 saw developments on nearly every front in cyber security. Data breaches, formjacking and vulnerabilities dominated the headlines.
Our Cyber Security Risk Radar publication briefly summarises some of the main developments in the cyber security industry over the last three months and outlines what organisations need to be doing to protect themselves against these risks throughout 2019.

If you missed our previous issues you can still download our January 2019, October 2018, July 2018 or April 2018.
Want to receive the Cyber Security Risk Radar into your inbox each quarter? Sign up for our 'News & Insights' distribution group.